"Kate has changed my life in the best way possible."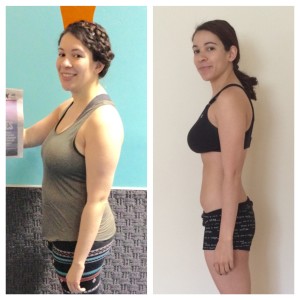 "When I first came to Long Island Fit Body Boot Camp, I was 172 pounds and miserable. It was the heaviest I'd ever been and I was very nervous about joining a boot camp as I assumed I'd never be able to keep up. Before working out with Kate, I never really exercised. I'd go through usual cycles of joining a gym, going five times and then never going again.
Kate made working out fun for me, which I thought was an unachievable feat. I lost over 50 pounds, and also gained a confidence I'd never had before. I honestly mean it when I say Kate has changed my life in the best way possible."
- Rachel Horner, New York, NY
===============
Busy Mom of Two Loses 18.1 Pounds and Gets Back to the Person She Was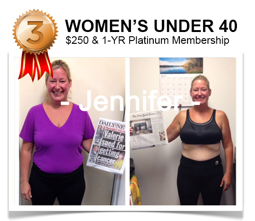 "This past January I found myself in a rut. I needed to lose weight and feel better about myself… I started working out with Kate at the Long Island Fit Body Boot Camp, and not only did I find something I loved. I became addicted.
The boot camp workouts were extremely hard and intense in the beginning, but as soon as I started seeing results I kept pushing harder. I was becoming so strong, losing weight and the inches were melting off. I actually looked forward to exercising!!!
As a mom of 2, my life can be pretty hectic. This has been a perfect solution to get me back to the person I was."
– Jen Theien, New York, NY
===============
Paul lost 25lbs in 12 weeks and Won $1000!
Before weight: 199lbs
After weight: 174lbs
"I started seeing results and started getting excited. Never had I felt the way I was feeling after being in boot camp for a while. I actually looked forward to exercising!
Instead of spending 45 minutes on the elliptical and even more time on weights bored out of my mind, I'm doing burpees, squats, push ups, plank exercises and more in a circuit that really gets my heart rate up, metabolism working and strengthening my muscles at the same time, all in a short workout! It's the perfect style of training for a busy New Yorker.
It has completely changed my life. I look better, feel healthier, have way more energy, booming confidence and so much more motivation and courage than before. I've accomplished something I didn't think was possible and now the sky is the limit!"
- Paul Betz, 32, New York, NY
===============
Nilka Lost 12.4lbs and 8 inches off Her Trouble Spots in 12 weeks!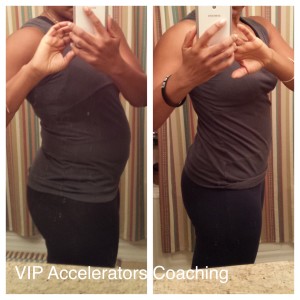 ===============
"Almost Miraculous"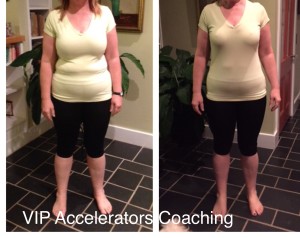 "Even though the number has not gone down in the scale I am on my way to NYC today wearing a knit top that is actually tucked in to a pair of dress pants. Almost miraculous. Thanks to Kate Vidulich's workouts!"  - Karen, NY
===============
"I'm hooked! I don't ever want to look back"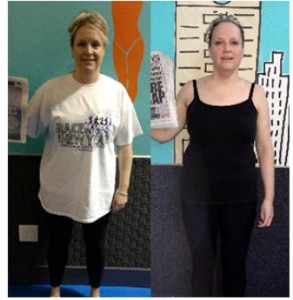 Before weight: 185lbs
After weight: 166lbs
"It's true that when you see results you want to keep doing more. Years of treadmills and miles of walking and I never saw the results I see now.
My body fat is going down. I am feeling better. I am sleeping better. Clothes that hang in my closet are starting to fit again. People are saying I look better. I am starting to feel more confident.
I'm motivated now. I don't ever want to look back. I'm not sure why it took so long to find something that works, but this has.
I'm hooked!"
– Kim Tebbs, 47, New York, NY
===============
Busy School Teacher Loses 31lbs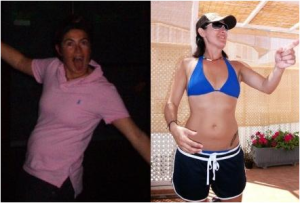 "Two months before a big birthday, I called on Kate to help me get back in shape. As a busy school teacher, I am constantly running after children and I was struggling to keep up. When I started working out, I weighed over 73kg. With the help of Kate's online coaching programs, I lost over 14kg and kept it off. I feel like I'm in better shape now than I ever was in my twenties.
To be honest, I don't really enjoy working out. I spent so many years doing the same cardio at the gym and I was over it. Kate created a program for me to do in my flat with dumbbells and body weight exercises. I hardly did any cardio and surprisingly lost more fat than ever before. The workouts Kate designed were challenging and tough, but really easy to follow. I found myself looking forward to working out and it didn't take up all my free time. Kate is really dedicated to helping you achieve your goals.
Thanks Kate, I feel amazing without ever being deprived of a life."
- P. Andronicos, School Teacher, London, UK
===============
"The Workouts Never Get Boring"
"I have been training with Kate for the last four years. Before I worked out with Kate, my trainers had me do the same thing all the time and it got boring and wasn't fun, too many machines and they never discussed my eating habits with me and I didn't really have a sense of connection or understanding. Kate mixes it up all the time and keeps it fun.
I look forward to working out and I always come away feeling good about myself and uplifted in spirit. I travel a lot for work and am convinced that my stamina is greatly enhanced by a healthy body. Kate has a sense of humor and the routines we do are varied and fun and I can honestly say I have a good time working out! Kate pushes me to do my personal best, but is careful about preventing injuries, since I have a 30 year old spirit in the body of a 64 year old woman. She motivates me to eat healthily but no guilt if I fall of the wagon… I just get back on. And I never in a million years thought I could do 1,000 jump ropes in 10 minutes!"
- Nancy Robey, Entrepreneur, New York
===============
"I Fit in My Skinny Jeans All The Time"
"I have been training with Kate for 3 years. We have refined my regime so tightly that there is absolutely no time wasted. I don't have the time or energy for workouts that don't produce results. We begin or end each workout with a metabolic set of full-body accelerators.  These sets have become key in changing the shape of my body (and shredding fat). For strength training, we do 4 sets of 8 reps of targeted muscle groups.  It's consistency over time that keeps the results steady. I am thrilled as I can fit into my skinny pants all the time instead of just on certain days."
- Eleanor, New York
===============
Flat Abs at 63 years old!
"Katie has helped me get in great shape. I have worked out with trainers for more than 30 years, but this is the best result I've seen. I'm a 63 year old man and I had spinal surgery 11 years ago (C5-6 fusion). As a result of our training, my mobility, balance and strength is the best ever. In less than 2 hours total training time each week, my body fat is low and I have lean, defined abs.
I think the most important thing is that we are doing core training, using bodyweight exercises and most importantly, not bulking up.
Katie makes the workouts challenging, but within my capabilities. Now I'm able to hike up hills in the countryside without stopping and I have the endurance to practice hitting tennis balls with a pro for at least a 3/4 hr. I am feeling great.
As a busy professional in New York, Katie's training program and workouts are time efficient and have produced great results."
Dennis Selinger, New York