You know, the gym is a bizarre place early on a Sunday morning. Well, it was yesterday. The crowd was a mix of old school, hardcore bodybuilders, bad 80's outfits and a sprinkle of the usual suspects. And little ol' KV (that's me by the way).
What do you expect at 8am on a Sunday morning?
Well, the one thing that flipped me out was a lady on the big, fancy ab machine. She spent a good 20 minutes doing weighted crunches trying to lose belly fat.
Hmmm, waste of time? You bet!
Check out this awesome 4 minute ab workout video. I won't lie – this is really intense but I know you're going to love it. Warning: this is for advanced folks ONLY.
Let's do this! Press play now and follow along with the workout.
As you can see, it takes 4 minutes to train your abs. Too many people waste a 30-40 minute doing a whole workout dedicated to abs, which is completely unnecessary. Spend your time wisely…
NO equipment required, so there is no excuse not to try it. There are ZERO crunches, sit ups or weighted ab machines (or anything that resembles it).
You can add this ab workout to your current program today.
Speaking of ab sculpting moves, if you'd like to see the EXACT step-by-step system that I used to sculpt my abs (with full follow along videos… and even access to my personal diet plan), this is your chance to do it:
==> Grab the NEW Ab Sculpt & Slim System here
You can download the videos to your computer or even your smartphone (so you can take ME to the gym with you!).
If you're feeling skeptical about this, I understand why with all the quick fixes and "miracle" diets being shoved down your throat. Hence my iron-clad "it works or it's your free" guarantee. If at any time in the next 60 days you're not 100% satisfied and happy with your progress… simply drop me a line and I'll give you a full refund. No questions asked.
Here's Proof This System Works: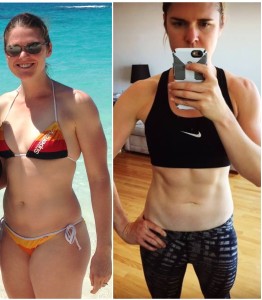 You can grab all the workouts here.
==> Grab the NEW Ab Sculpt & Slim System here
Your Coach and Friend,
Kate